The following event of Learn to play Shogi will be held at 7:00pm on December 8 and 14 at the Balboa Club in San Diego, California. If you are further interested, please read the links below, you will find the contact information there;
Taught by Chess Expert Eric Kuniholm, now Shogi Master 1st Dan.

      Shogi is a cousin of Western Chess, independently developed as the game spread outward from India over the last 1000 years or so. About 75% of the rules are similar so it's really easy to learn if you know how to play Chess. Most of your skills will be transferable! —And transferable both ways if you get good at Shogi! Three of the top Shogi players in Japan have made master norms in their first ever attempts to play in Chess tournaments, and IM Larry Kaufman finally got his GM title after becoming the top rated Shogi amateur in the West.

      But be warned, Shogi has several orders of magnitude more possibilities than Chess, and computers have yet to beat Shogi professionals in match play. The main reason for the increased complexity is because in Shogi, prisoners can be reintroduced into play, like bughouse, and almost all pieces can promote—rooks, knights, bishops, and not just pawns. Almost every game ends in a sacrificial mating attack, and only 2% of games between professionals end in draws (for amateurs, the figure is even lower). And no problems finding opponents once you learn the game, it's more popular than Go in the Japanese community, and the Shogi equivalent of the ICC offers free online membership to all players outside Japan.
I got an email with a photo from Eric Kuniholm, who is the organizer of the captioned event. Here is the photo he sent to me.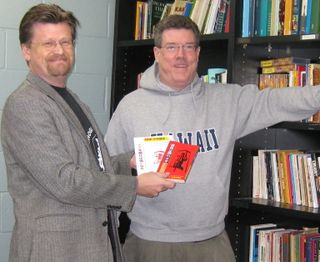 (Eric Kuniholm presents to Chuck Ensey, and the San Diego Chess Club Library,two copies of Shogi books by Aono Teruichi 9 dan--graciously donated by the author. Balboa Club members can now check out two of the best books available in English on this Japanese cousin of Western Chess.)