This is a strategy guiding content when you fight against a Hamster in Hamshogi
When you are a 10 piece handicap taker, the initial setup is like below;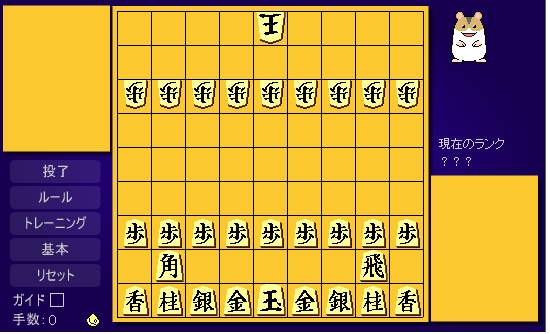 Please look at the board above carefully. Comparing with Naked-King handicap, nine pawns are added to Hamster's side. What does it mean? It means Hamstar's defensive capability is slightly empowered. You can still beat Hamster with moving only three kinds of pieces such as Rook, Bishop and Pawn. You do not have to move the other pieces such as King, Gold, Silver, kNight and Lance. Here are the directions about how to beat Hamster when you are a 10 piece handicap taker.
Open your Bishop's diagonal line as your first move.
Taking vanguard position by advancing the Pawn twice on 7th or 1st file.
Transfer your Rook to the file where you took vanguard position.
Trade your Rook's pawn to let your Rook advance and get promoted then.
Make a check with promoted Rook.
After that, let your Bishop get promoted.
Mate Hamster's King by using two promoted major pieces such as Rook and Bishop.
Let's play a 10 piece handicap game against Hamster in accordance with the directions above. I will write an commentary using my games with Hamster with lots af diagrams tomorrow or on a later day.