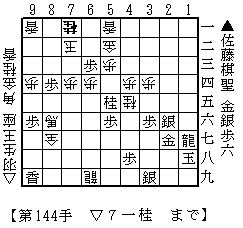 The first game of 54th Ouza-sen between Ouza Habu and Challenger Kisei Sato was held in Kanagawa prefecture on September 7. As a result of Furigoma, Sato played Sente(Black, Lower side of the diagram). Habu won it and he leads the score by 1-0. Ouza title match is 3-wins one. Both players had 5 hours of thinking time and consumed 4 hours and 59 minutes.
Many professional players got excited about the game since the positions were reversed several times. You may replay the full game here in Shogi Kingdom(Japanese) in Nikkei Net.
The diagram in the left is when Sato resigned to see Habu's 144th move of N*7a. It's not easy to explain why Sato resigned here since both Kings will not likely to be mated and they could play longer. But here is my guess.
Sente(Black, Lower side) would not be able to prevent Gote's King from escaping to Sente's camp. For example, the following variation would be considered after the diagram;
P-6b+ K-7c +Px5b K-8d

S*6b Gx6b Px6b+ K-7c +Px7a K-8d
Since the promoted Horse on 8f, the promoted silver on 8g and the promoted Rook on 6i overwhelmed the left side of the board very well, Gote's King could not be trapped. On the other hand, Sente's King were in danger since the Silver on 3i was floating and threatened to be taken by Gote's promoted Rook on 6i. Sente might manage to enter his King to Gote's camp as well as Sente would. But Gote had 3 major pieces in total, two on the board and one in hand. Gote would not be able to score enough points of piece values to form Jishogi(Impasse). Here is the link to Winning the game in Shogi - Wikipedia to refer to how to decide the game when both King entered into their opponents' camp.