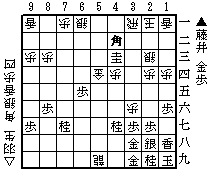 On April 19, the 2nd game of the 24th Asahi Open Championship was held between Asahi Habu and Challenger Fujii 9dan in Miyagi prefecture. Before the game, the score was 1-0 led by Habu. Fujii played Sente(made the first move) and he won the game with 129 moves. Now the score is tied by 1-1. Since Asahi Open Championship is 3 wins match. The winner of the next game will have big advantage.
The diagram is at Habu's resignation when Sente(Black, lower side) dropped his Bishop on 4b. Sente has a Gold and a Pawn in hand.
If it is Sente's turn in the diagram, there will be a mate such as Bx3a+ Kx3a R*4a K-2b G*3c K-1b(if K-1c instead, then Rx1a+ S-1b +R-2b(mate)) R-4b+ P*3b Gx2c Kx2c Rx3b+ K-1c S*2b K-1b S-3c+ K-1c +R-2b(mate).
Therefore, Gote(White, upper side) must make a defensive move but there is no effective defense. The possible variations after the diagram would be as followings;
R-4a B-3c+ S*2b G*3b Sx3b +Nx3b K-1b +Bx2b(mate)

R-4a B-3c+ S*3a +Bx2c Rx4c S*3b Sx3b G*2b(mate)

R-3b +Nx3b Sx3b R*3a K-2b G*3c K-1c Rx1a+ L*1b +R-2b(mate)

R-3d B-3c+ Rx3c +Nx3c S*2b +Nx2c Sx2c G*3c L*2b R*5a B*3a S*4b(Hisshi, brinkmate)

S*2b Bx3a+ Sx3a+ R*5a Px3g+ P*3b +Px2h Gx3h-2h Sx2c-3b Rx3a+ Kx3a S*4b K-2b +Nx3b K-1c(If Kx3b instead, then G*3c K-2a S*3b K-1b G-2c(mate)) G*2c Kx2c S-3c+ K-1c S*2b K-1b S-1a+ K-1c +S-1b Kx1b +N-2b K-1c +N2c(mate)
There might be more variations, but in any case, Sente should win the game.